Eunice Njeri takes online to explain why she's still struggling despite making millions through her music
Gospel singer Eunice Njeri is happy to be a talented singer but sad it doesn't really pay in Kenya.
The "Unatosha" singer took to social media to explain how she's lives a hand-to mouth lifestyle even though she made millions through her music.
Read the long post she shared.
"My name is Eunice Njeri. Am a Gospel musician and I Love Jesus,
"Maybe you might remember me from the close to 30 Million Kenya Shillings you make every month from my music…or almost half a billion Kenya Shillings you have made the last one year, not so big in your eyes but enormous to mine.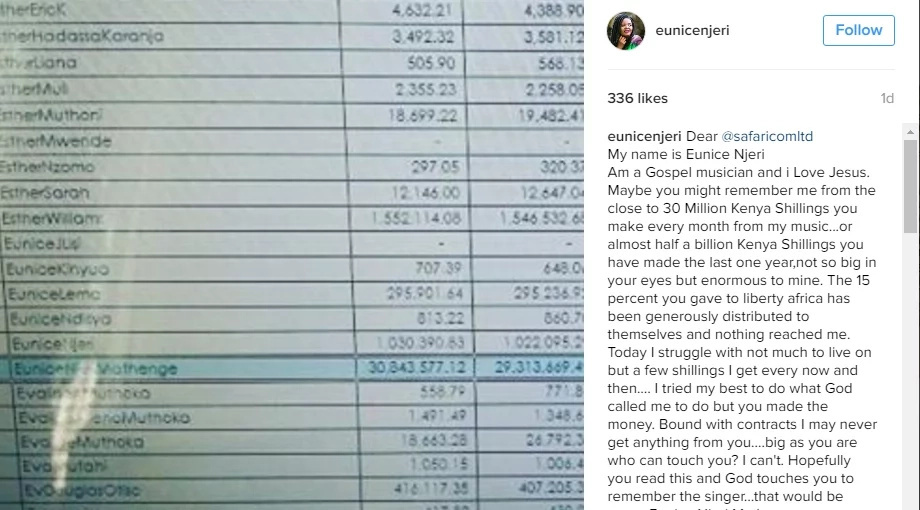 The 15 percent you gave to liberty Africa has been generously distributed to themselves and nothing reached me. Today I struggle with not much to live on but a few shillings I get every now and then…. I tried my best to do what God called me to do but you made the money.
Bound with contracts I may never get anything from you….big as you are who can touch you? I can't. Hopefully you read this and God touches you to remember the singer…that would be me….. Eunice Njeri Mathenge.
Njeri recently got engaged to her fiance Izzo Raps who is also a gospel singer.
Comments
comments