A controversial screenshot posted on social media shows gospel Dj and motivational speaker, Dj Moh calling his best friend a dog
NTV Crossover 101 host and a renown gospel DJ, Dj Mo called his friend, Xtian Dela, a dog on a whatsapp conversation that the twitter influencer later posted on social media.
Their conversation was posted on social media by the influencer who was posting the list of his friends that he had successfully pranked.
The genesis of the insult stemmed from a prank that Dela had played on the DJ. When the latter realised that he had been pranked, in swahili, he called the influencer, Mbwa wewe.  A swahili equivalent of ' you are a dog'
I don't know where that stands in matters morality especially with this facade that the DJ and the influencer has created around themselves; that they are Christians and therefore infallible.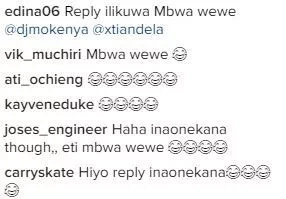 All I know is that your typical gospel  DJ shouldn't say the word dog when referring to a person.
Comments
comments