Did you know these things about socialite Vera Sidika? Check them out…
Vera Sidika is the original gangster woman when it comes to Kenyan socialites.
She introduced this phenomenon to Kenya when she went viral for her body, her semi-nude pictures and the lavish lifestyle she lived after making money by use of her body -and I do not mean prostitution.
After all, she was quoted as saying "my body is my business and my money maker".
Check out these lesser known things about Vera Sidika- that once started out as secrets before they became breadcrumbs at building her socialite profile.
1. Her real age
Today, in 2016, Vera Sidika is 27 years old, but in the past few years, she allegedly kept lying about her age.

When her star began shining back then, she once said she was 23 and caused an uproar on social media as people claimed that could not be her real age.
She was reportedly born on September 30, 1989, but we can still call her real age into question.
2. She is a mom
Vera is a mom. Can you believe that? Before the and being a video vixen and all manner of alternative hustling jobs, she was a mom.
She, however, claimed to have never gotten pregnant in her entire life because she always uses protection.
Hence, is she denying the existence of her child?
Where is this child btw? And what is it's state of mind considering the explicit content its mother uploads online for her "career"?
3. Had 'Kenya's first' music video banned
Her voluptuous behind got P-Unit's video banned on some television channels. Can someone want a better validation for their looks than this move?
4. Studied BA in Arts and Design
Vera Sidika is a learned woman. I wonder, though, what is she using her knowledge for?
Well, she does own an enterprise that deals with hair, so maybe she designs weaves or something? She also once claimed to own a chain of salons and other businesses. At least the degree is not going to waste.
5. Grass to grace in 60 seconds
According to a Kenyan blog, unconfirmed reports are that she used to live in a bedsitter in Kahawa Wendani for KSh 3,500 monthly.
Now, she lives in a lavish house in Kitisuru, Nairobi, has a fleet of cars and is said to own properties in the city, Kilifi and quite possibly, in Nigeria.
6. Expensive looks
Her bleached skin and humongous assets boosted her ego to the point of charging KSh 217,000 an hour to appear at events.
Dear Vera Sidika, there are many people currently applying to be a personal assistant. Maybe you need one to help you spend all that money?
7. Sex addict?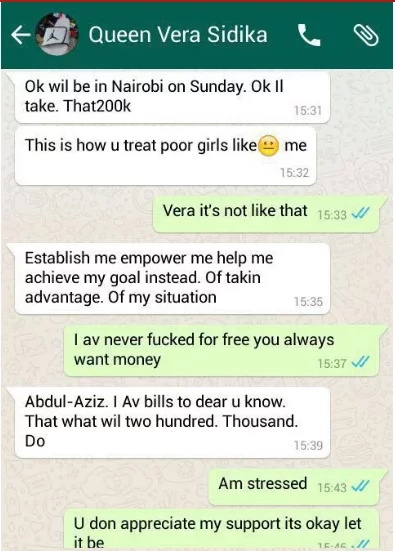 Rumors and screenshots online claimed that Sidika is an alleged sex-hungry maniac who is not afraid to get down and dirty in potential sponsor's DMs.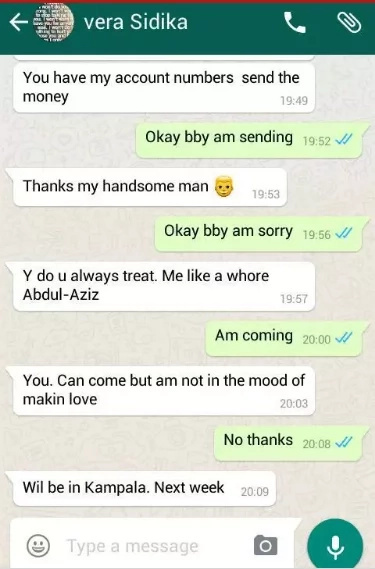 She has been accused many times of begging for staggering amounts of money in exchange for sex with rich men.
Comments
comments